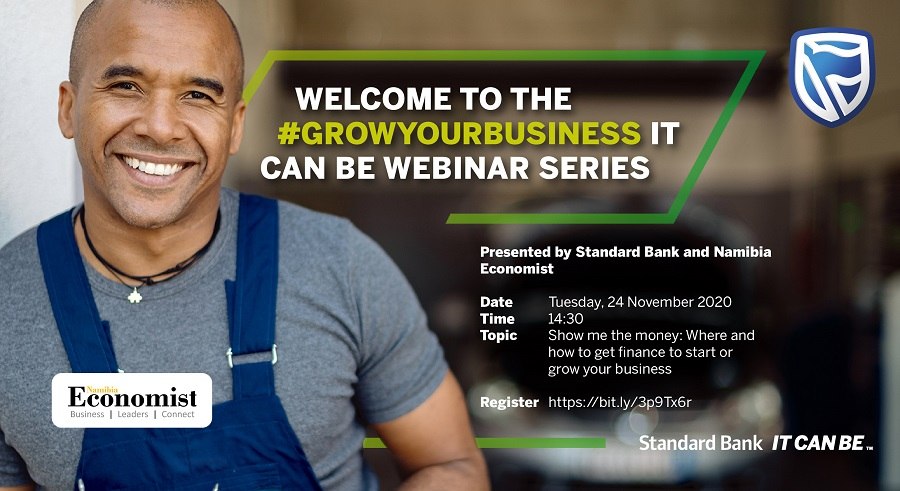 #GrowYourBusiness….IT CAN BE
Join us for the second session of the Standard Bank #GrowYourBusiness….IT CAN BE! online Business Talks Series on Tuesday, 24 November at 14:30. Our host, Desèré Lundon-Muller, and three acclaimed panelists will share their expertise and show you how to get finance to start or grow your business.
The topic for this session is: "Show me the Money"
– Practical guide to managing your finances.
– Your Business Finance Advice and Guidelines.
This session will teach you how to apply for financing and how to manage your finances once your business is operational. 
Questions that will be answered in this talk:
Where do I start looking for financing?
How do I determine how much money I need?
How to align my business plan with my financing requirement?.
What is a good business plan and why is it essential?
What skills do I need to manage my finances?
What are the pitfalls that I need to be aware of?
How to monitor progress and report to my financial institution.
On the panel are David Namalenga, Managing Director of Dinapama; Vladimir Quido Winkler, CEO and founder of Guidao Mowira Group of Companies; and Felicia Jooste, Manager of Enterprise Direct at Standard Bank.
The full series addresses how the pandemic has changed the ways people connect, consume, work, get educated and socialise, and in what way these patterns affect the re-set world that emerges.
Take a look at the programme agenda here. You are welcome to share the event with colleagues and friends in your networks who may be interested.
Attend this talk to stand a chance to win a prize, either to start or grow your business!
Scroll down to get a glimpse of the wisdom of three people who have made it.
Show me the money - Stream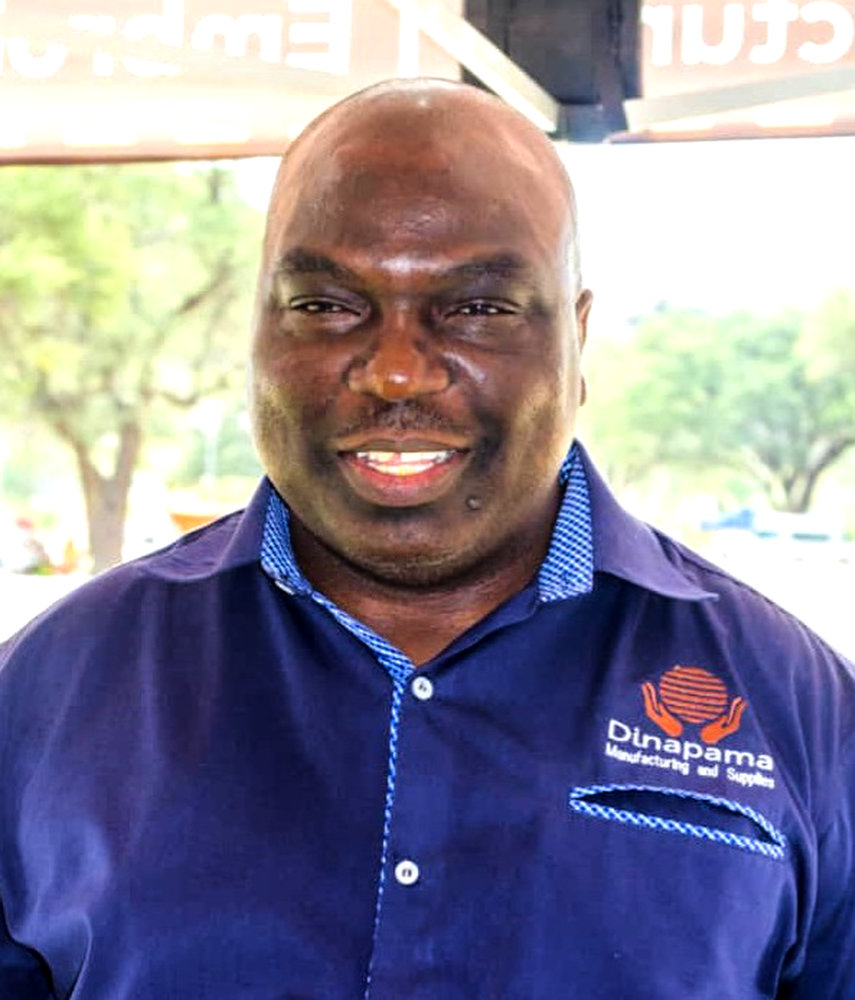 David Namalenga
Managing Director, Dinapama
Topic:  A practical guide to Managing your Finances.
In his capacity as MD of Dinapama, David overseas a staff of about 380 employees.
As a seasoned union leader and with a successful career in the private sector, David has a unique skillset which he employed to the fullest to establish Dinanpama. This he has used effectively over the past nine years to grow Dinapama to an important local manufacturer.
Dinapama manufactures a range of garments and uniforms on contract and also distribute ancillary supplies.
David is an inspiration for all young people. His career started a few months before Independence from the very humble appointment as a cleaner at the then Kalahari Sands Hotel. Soon he doubled as a waiter, and from there to reception and night auditor.
Later he acted as Night Manager before being appointed as F&B Manager. It was also during this phase that he became involved with HR issues as a full time shop steward for the hotel's staff. He worked at the hotel until 2002 when he moved to Roads Contractor Company as an OD Officer.
At RCC, he served his employer as the Manager of Industrial Relations, the acting Manager of Human Resources and later as the General Manager HR. He worked at RCC until 2011.
He served in many and different capacities in the Namibia Food and Allied Union from 1990 to 2006 ranging from Branch Secretary to National Treasurer and eventually as the President of the organisation. From 2006 to 2010 he served as First Vice President of the National Union of Namibian Workers.
David is a member of the Industry Skills Committee at the Namibia Training Authority, the Deputy Chairperson of the Namibia Retailer Charter and a Board Member of the Namibia Manufacturing Association.
In 2011 he took a leap of faith and started Dinapama Manufacturing & Supplies.
He also serves on the boards of Token Fishing, NAMIC Financial Services, Gazania Investment Holdings and NAFAU Investment Holdings.
He holds a Bachelor's degree in Administration and post-graduate diplomas in law (Arbitration and Conciliation) and in Public Administration. He has also completed the highly regarded Management Development Programme of the University of Stellenbosch.
David sees himself as a person with a cheerful disposition, he is neat and well-organised, motivated by problem solving, collaborative and efficient.
---
Vladimir Quido Winkler
CEO & Founder of Mowira Media & Managing Member of Umbuso Corporate Convenience, Waka Educational Group, Street Cuisine, & Boxxed Foods and Guidao Mowira Group of Companies
Topic: What do you need for a successful loan application.
In the wake of a very successful career as performing musician under the stage name Quido, Vladimir Le-Roy Winkler decided to take a bite at the big apple. He entered the corporate world in 2012 as the Managing Director of Ombuso Corporate Convenience. This was followed by the founding of more companies specialising in business development until 2016 when he formed the multi-million dollar Guidao Mowira Group of Companies.
Before his formal entry into the corporate world, he was best known for his award winning career as the musician Quido and as a member of the 061Music group.
GMG, or the Guidao Mowira Group, includes Umbuso Investments, Mowira Media, Street Cuisine and September Third Investments. Vladimir is also a director of YEG Marine Resources and of the WAKA Educational Group.
He has been awarded for Innovation, is the founder of the SowetoDream Foundation and a popular motivational speaker.
His skills are in Sales & Marketing, as a Brand Expert, in the general operation of companies and in financial management. He has done two years of a degree in Economics.
He ascribes his success to his results-oriented management style and his ability to establish mutually beneficial relationships with clients, vendors and service providers.
---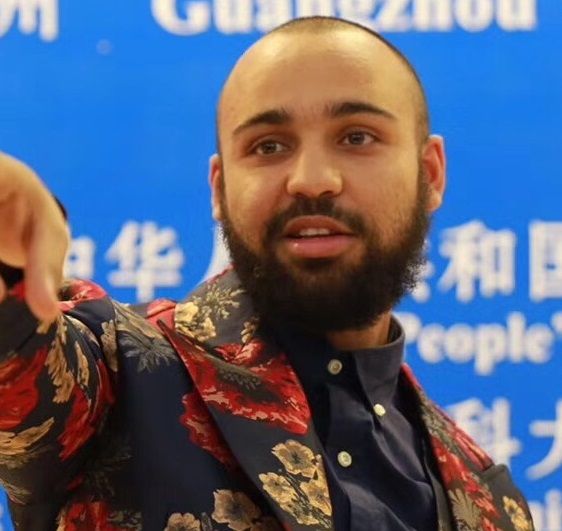 Felicia Jooste
Manager of Enterprise Direct at Standard Bank
Topic: Your Business Finance Advice and Guidelines.
After more than twenty years in a banking career, Felicia Jooste of Standard Bank is currently the manager of Enterprise Direct, the bank's platform for gradually migrating small and medium business customers to virtual banking services.
She directs a team of Business Bankers tasked to bring SME customers into the digital fold, servicing them via e-mail, telephone and SMS. She sees her current position as another step in following her passion to develop leadership and grow the Namibian Entrepreneur.
In her earlier career, Felicia worked for First National Bank and NamPost Savings Bank.
She holds a B Comm degree and qualifications in Project Management, and Risk Management & Banking Credit.
---