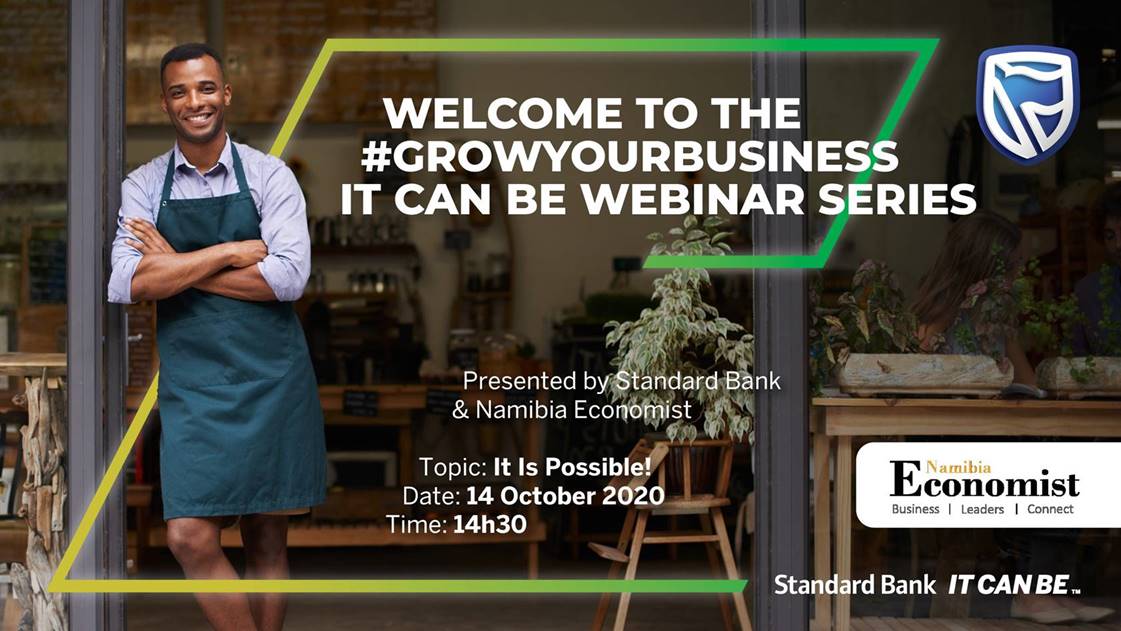 #GrowYourBusiness….IT CAN BE
Attend the digital Standard Bank "#GrowYourBusiness….IT CAN BE! online Business Talks Series
from October 2020 to September 2021 and it will teach you how to step up your game to address
the immediate crisis and to guide your business to the next normal. We will offer you the tools to start your business, to find the right financing in the right place, to define your market and your customers and to use internet tools for your business and accounting systems to keep your business in good standing with authorities.
Questions that will be answered in this talk:
How do you measure success.
How do you make up your mind where to start.
How to negotiate the beginning.
Setting goals and monitoring progress
Where and how to find different types of finance
You will also learn about the unique elements of HR management, or where to locate your business for optimal performance and market access. Finally, you will be guided to align your insurance with your business needs, anticipate legal challenges and formulate your strategies for long-term investment.
Attend the first talk to stand a chance to win a N$10,000 cash prize, either to start or grow your business!  As a participant, you are automatically entered for this draw to win the special prize sponsored by Standard Bank.
One prize will be given after every talk with a grand prize up for grabs at the end of the series of talks.
Scroll down to get a glimpse of the wisdom of three people who have made it.
Join the live discusion
Join the live discussion on Discord.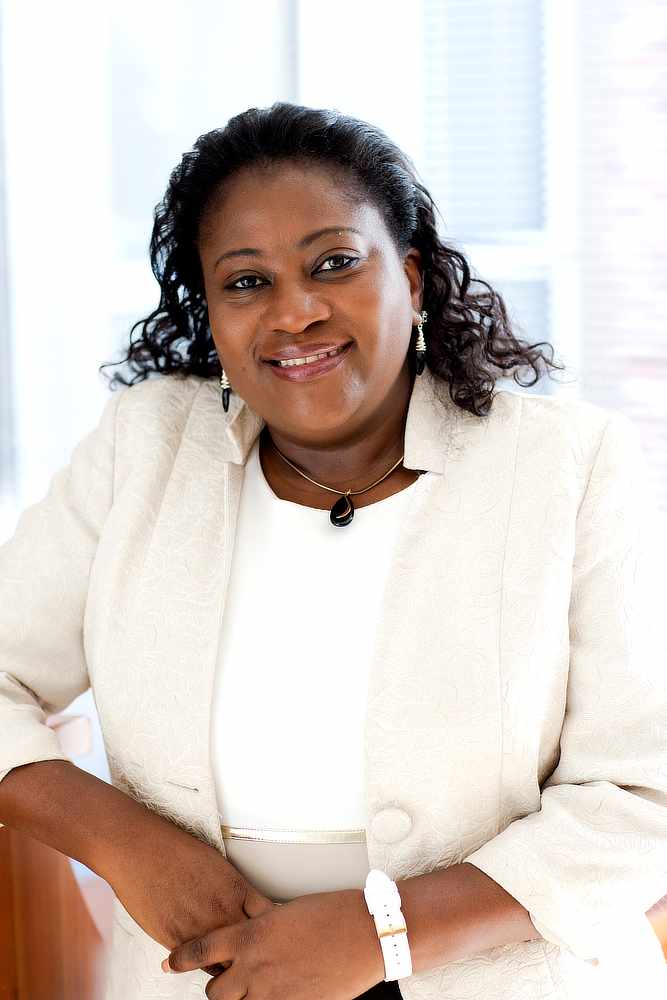 Kauna Ndilula
Managing Director of Business Financial Solutions
Kauna is best-known for establishing and developing the Namibia Procurement Fund which to date has invested more than N$1.7 billion in over 300 SMEs. Through this process, she has contributed to help create more than 6000 jobs.
In her formal capacity as the Managing Director of Business Financial Solutions, she meets many talented young people who ask for guidance and mentorship. From her own experience, she knows the route is not easy. As a late starter in business (only after she turned 30) following a professional career as a Social Worker, she takes you across many vistas in her dreams, her struggles, the obstacles she had to overcome, and most important of all, the energy and the strength she had to find in her innermost being to continue the upwards journey.
And she herself sees no end to her aspirations. It is now her intention to roll out the Procurement Fund business model to sub-Sahara Africa.
Her corporate governance experience stretches over a wide range of sector and across both the public and private sectors. In this regard, she served on the following companies:
• Public: Nampower (Chairperson) and served as an Advisor on the President's Economic Advisory Panel, Namdeb Holdings and Corporation, Business Intellectual Property Agency, National Youth Council (Founding member)
• Private: Namibia Stock exchange, NAMMIC Investment Holdings, Kuleni Preservation Fund (Chairperson)
• Development Institutions: Namibia Nature Foundation, One Economy Foundation (First Lady Foundation) and Patron of TOV
Toivo Nuugulu
Architect, Toivo Nuugulu Architects
As a young boy in exile, Toivo Nuugulu learned quickly what it means to belong to a community. To be the people's child. His childhood, and his existence, personifies the African saying that – it takes a village. Now, Toivo uses his knowledge of love, kindness and compassion, as he continues to embark on not only building his own empire, but also empowering other young Namibians.
The 36-year old architect is one of many Namibians who were born and raised in the midst of Namibia's struggle for independence. Recalling his time in Angola, Toivo says that he, and his peers were too young to understand that they were being raised in a time of, and in the middle of, utter war and despair, but acknowledged though, that they were also old enough to understand that life was unconventional. "The camps were not all doom and gloom for the children. We ran around, we played soccer and we laughed, there was always laughter and there was a good support system, all the children belonged to everyone, we truly experienced love," he explains.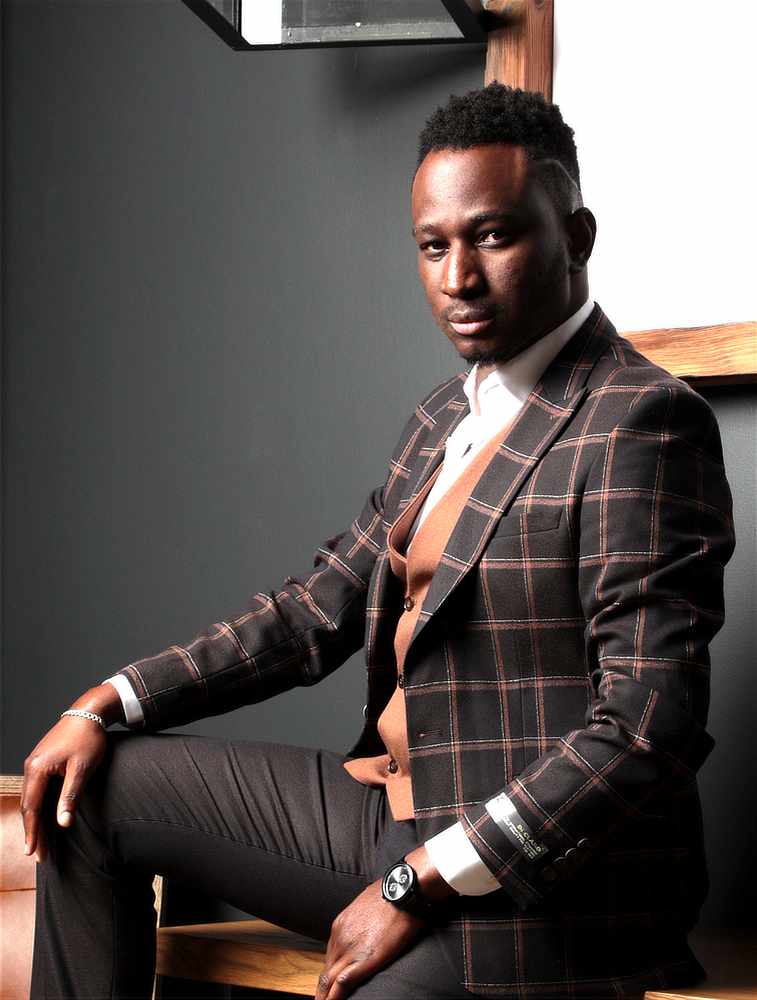 Felicia Jooste
Manager of Enterprise Direct at Standard Bank
After more than twenty years in a banking career, Felicia Jooste of Standard Bank is currently the manager of Enterprise Direct, the bank's platform for gradually migrating small and medium business customers to virtual banking services.
She directs a team of Business Bankers tasked to bring SME customers into the digital fold, servicing them via e-mail, telephone and SMS. She sees her current position as another step in following her passion to develop leadership and grow the Namibian Entrepreneur.
In her earlier career, Felicia worked for First National Bank and NamPost Savings Bank.
She holds a B Comm degree and qualifications in Project Management, and Risk Management & Banking Credit.